Airports can have a big impact on the ease and comfort of our air travel experiences. I find airports to be interesting places. They can even be fun to explore if you have the time. Everyone has a different idea of what is important to them when visiting an airport.
Each airport has it's own personality. Most airports are all business, simply focusing on providing a quality experience for their customers. But some airports try to further engage their visitors by providing superior amenities like spa treatments, high end shops, indoor gardens or unique activities.
The 8 Most Important Factors to Make my List of Faves
An easy flow upon entering the facility and all the way to the gate
I should always feel safe
Finding where to retrieve luggage should be well marked and it should be fairly easy to get there
There should be clear signage throughout the airport
The airport and gate areas should be very clean
There should be plenty of clean and stocked restrooms as well as water bottle filling stations
It's helpful to have a variety of food options and a few relevant shops
Everyone is traveling with tech these days, so it is important to have plenty of places for people to plug in or charge their devices
Flow and Layout
The airport layout can deliver you smoothly to your destination or send you scurrying around like a rat in a maze. Airports like JFK or LAX are so big and crowded that they can be very intimidating to navigate, especially for an infrequent traveler.
Getting to and from your gates can require a shuttle or tram ride at some airports like Daniel K Inouye (HNL) or McCarran International (LAS). Doing a little research before your trip can save you some anxiety by helping you decide if you will need to allow extra time for in-airport transit.
Sometimes, language can be a barrier as well. When we arrived at (FCO) Fiumicino airport in Rome back in 2015, we struggled to figure out where to find our luggage and our hotel shuttle. Since neither of us were fluent in Italian, it was very difficult sorting it all out. Although most European airports also use English signage, I now make it a point to familiarize myself with important terms for any airports we will be utilizing outside the U.S.
Managing Layovers and Delays
If you have a flight delay or a long layover, airports can help to either make or break your trip. Last fall, we experienced a 3 hour weather delay at our home airport, Detroit Metro (DTW). Having Priority Pass lounge access allowed us to grab a drink and a nibble in comfort instead of grouching at one another hangrily at the gate for hours.
No such luck during our 6 hour layover in Oakland last fall though. Since their Escape Lounge wasn't accessible with our Priority Pass, we skipped the $45 pp entry fee and struggled at our crowded gate instead. It was quite a hike through tons of construction to get from our gate to any of the airport's food and beverage vendors. There were also no outlets for charging our devices at our gate, so we had to preserve our batteries instead of using them for entertainment. Eventually our explorations led us to an empty gate where we found plugs so that we could at least charge our devices before our next long flight. All of these things made what was already a long wait seem even longer.
Interesting Features
Of course, the flow and functionality at an airport are the most important things. But since we tend to spend copious amounts of time there, it's fun to explore all their interesting features too. Some that I have enjoyed were the Jazz themed murals at Louis Armstrong New Orleans International and the desert sculptures at McCarran International Las Vegas.
Portland International Airport (PDX) makes my list of favorite airports. I was impressed with this airport because it was super clean and easy to navigate. The airport also had a proper mix of shops, restaurants and things to do. One thing I found very interesting there was the Hollywood Theatre.
The Hollywood Theatre is located in Concourse C. It is a Free 17 seat cinema that features short films (10 minutes or less) made by Oregon film makers. We didn't have a chance to catch a show during our trip, but I would love to do so the next time I am there.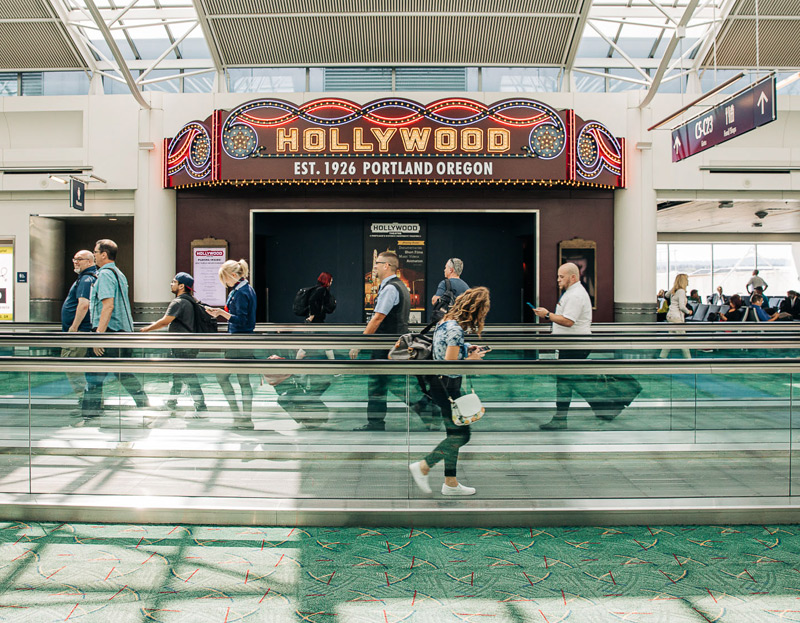 Choosing an Airport
Although not every trip requires a plane transfer or a layover, many do. That is especially true when traveling long distances or using low cost air carriers. If you are looking for the cheapest airfare though, you may have to pick an airport that isn't on your short list of favorites. For some routes, there is just one option which eliminates your need to even choose an airport.
We all end up developing preferences for some airports over others. This can impact our future travel decisions. For instance, I am not crazy about the congested Southwest gate area at Nashville International Airport (BNA), so when I am planning any Southwest flights, I avoid plane changes at that location. If I am flying in the winter months, I usually opt not to change planes in Chicago (MDW ) due to their history of frequent weather delays.
On the other hand I enjoy the food at Charles De Gaulle airport in Paris and would opt for a layover there just for a Jambon Buerre (lol). We have often flown through Love Field in Dallas when visiting our son in Texas. It is such an easy airport to navigate plus they have a What-a-Burger restaurant which is a Win-Win for me.
All these quirky little things add up helping us to create a list of airports that we prefer. Conde Naste Traveler recently released this helpful list of The Best Airports in the U.S.: 2020 Readers' Choice Awards.
Packing it All Up
Airports are a necessary part of our air travels and our experience there can set the tone for an entire trip. When we have a choice, it only makes sense that we gravitate toward the airports that meet our needs the best. But it's also fun to explore their unique features while we are there.
What are some aspects that are important to you at airports?
Is there an airport I should check out due to it's interesting features?
Share your thoughts in the comments section about a favorite airport that you have been to or one that we might want to avoid!
Dream, Plan, Save, Adventure!